Various Artists
For Friends (Tomlab vs. Audiodregs)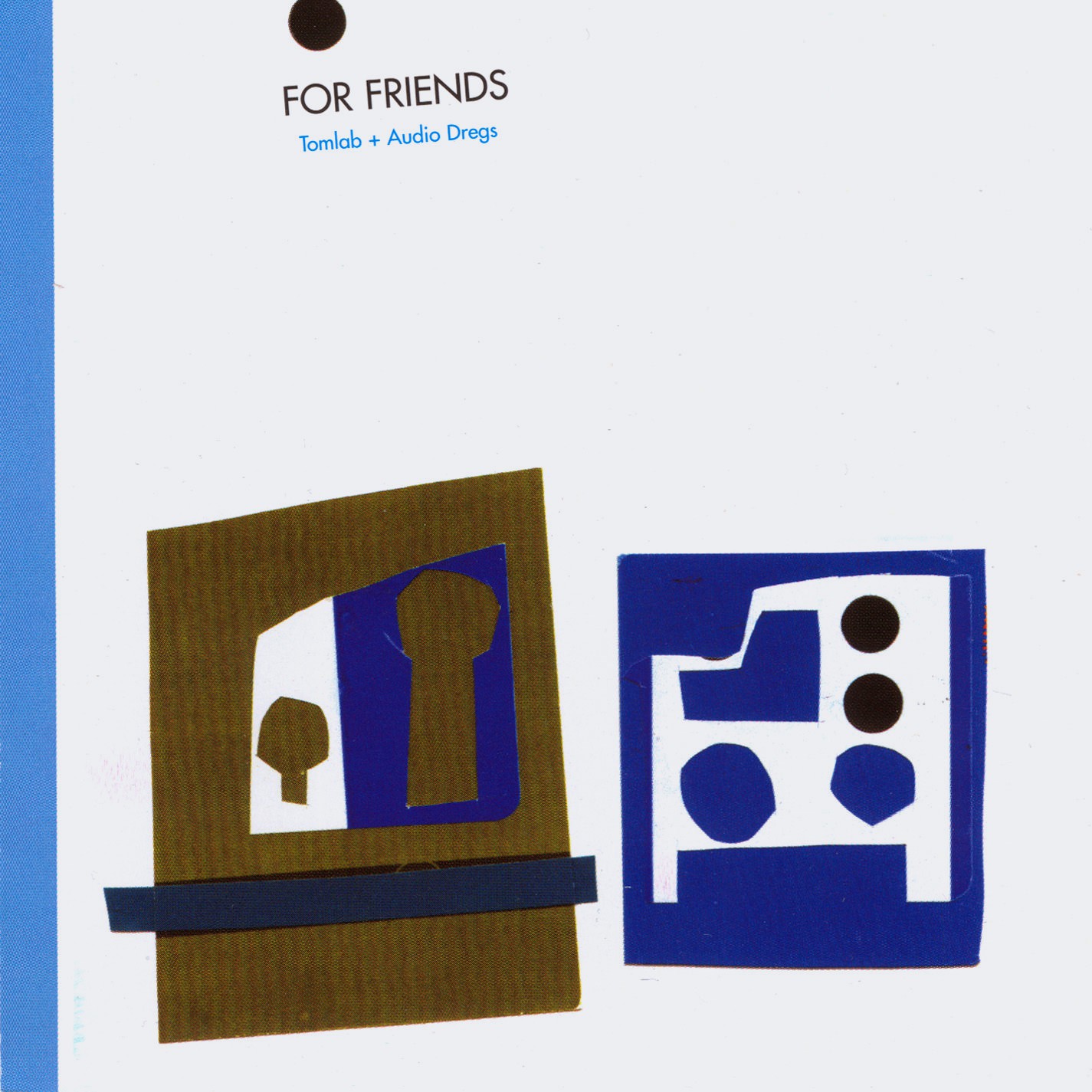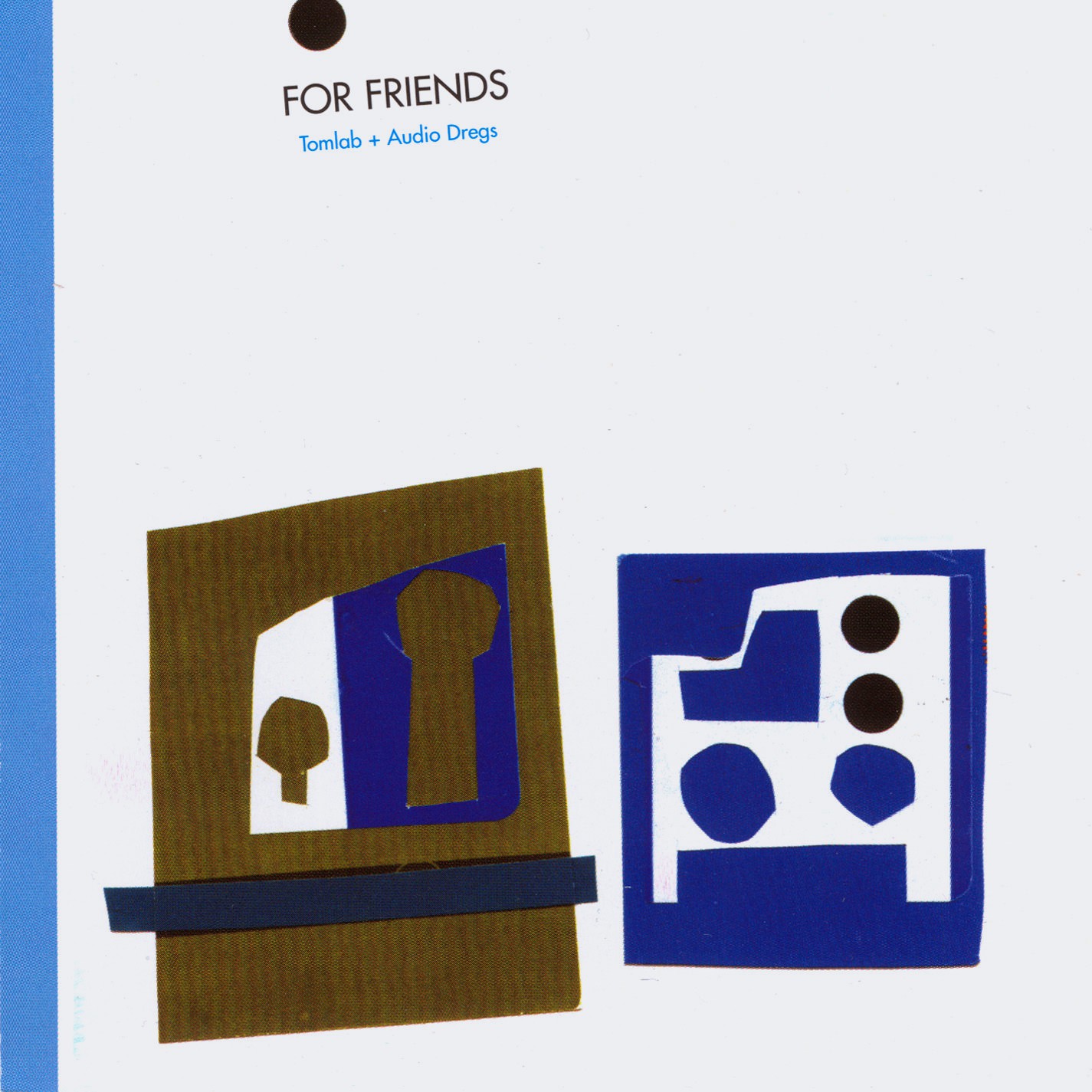 Various Artists
For Friends (Tomlab vs. Audiodregs)
Released 23/10/2001
CD/Digital
Tom015
Aeron & Sandra are living in Logrono, Spain from where they run the Lucky Kitchen label with wonderful releases between electronic folk, field recordings and ambient works. Go visit www.luckykitchen.com to discover more Lucky Kitchen works, especially don't miss out their latest 'Sparkling Composer Series'. Also have an ear for the solo album by Aeron Bergman under the title 'The Tale Of The Unhappy American' (tom11).
Carpet Musics is Eric Diaz and Eric Mast who currently reside in Los Angeles, CA and Portland, OR. Mast bought his first analog synthesizer from Diaz when Diaz and they soon decided to combine their synthetic efforts to see what it would create. 'Weekday' (adr044) is their latest release for Audio Dregs.
Inkblot is living in Austin, Texas. Coming out of nowhere he released his highly acclaimed first album 'The Language Game' (tom009) in 2000. Forthcoming albums are planned on Audio Dregs ('Love Your Mother') in 2001 and for Tomlab in 2002. 'He keeps a container, chipped white paint and copper hinges. Everyday, for just a moment, he takes the jars kept there and arranges the contents neatly into patterns on the bed...'
Ekiti Son is living in Londo, UK. He says he likes is music to be minimalist and spacious, yet evoking the city in which he was born and bred. Influences range from British electronic music to New York City hip hop. You can find out more info at futureformulas.com.
The Grace Period is probably from Boston, MA, but sometimes it's hard to tell. You can find out more at www.thegraceperiod.com. His latest album on Audio Dregs is titled Dynasty (adr041).
Supersprite enjoys long walks on the beach and dining out with his sampler. He is currently completing his debut full length for Audio Dregs in 2001.
:dz: is living in Florida. "I'm not smiling over the thought that all is for something odd." The sample is courtesy of r.c.p. / ltm.
E*rock co-runs Audio Dregs with his brother E*vax, as well as publishing Thumb zine and spending time as a visual artist.
F.S. Blumm is one half of sack&blumm and is living in Berlin, Germany with his girlfriend Bikini Krakor. A full F.S. Blumm album entitled Mondkuchen is already out on Morr Music. Previous releases on Tomlab include sack&blumm (tom005) and the 'Bettvanille weiter' 10 inch (tom008).
Lineland's frontman Malcom was born in Camden, Maine in 1973 and currently resides in Queens, New York. According to Malcolm, 'Antique Woman' showcases the sounds of 'Hit Keys', a toy made in China for Nasta Toys, Inc. He hopes that if Nasta ever writes a jingle it will be sung to the tune of Janet Jackson's 'Nasty Boys'.
Adlib is a project by Kristian Peters from Rostock, Germany. Kristian has released two Novisad albums on Tomlab (tom3 and tom13), an Adlib CD can be found on the Belgium K-RAA-K label.
Casiotone For The Painfully Alone is a project by Owen Ashworth who is living in Portland, OR. The cello and drum sample on this song were played by Jason Quever.
E*vax currently resides in Brooklyn, NY. He is currently working on a following up to his album, "Parking Lot Music" released on Audio Dregs in February of 2001. Visit him at www.audiodregs.com/evax/
Zammuto is living in NYC and is currently working with Paul de Jong for a new album for Tomlab that will appear early 2002 vividly mixing electronics and acoustic instruments.
Dim Dim resides in Bruxelles, Belgium, has released two albums with Audio Dregs and has another coming in fall 2001.
Jürgen De Blonde is the man behind Koehn, an electronic bedroom project with 2 CD releases on the Belgian K-RAA-K label. With 'Hidden Rabbit' he released a first CD collection of wonderful pop songs in early 2001 (tom010). A follow up album is in the works for Tomlab.
Jon Sheffield is living in Columbia, Missouri. His first release 'It's been so long since I've seen the ocean' (tom012) was a wonderful mixture of hi-tech electronica, acoustic instruments and voice samples. With this contribution he is stretching the boundaries even more.
Ear Weego is a collaboration between Hannes (Amsterdam) and Echo Ho (Cologne). This contribution is first in a series performed on the LISA software module at STEIM, Amsterdam.
Tracks 2, 5, 6, 8, 10, 12, 15 licensed by Audio Dregs Recordings, Portland, USA.
Tracks 1, 3, 4, 7, 9, 11, 13, 14, 16, 17, 18 licensed by Tomlab, Germany.
Alejandra & Underwood / Shanghai Harmonica
Carpet Musics / Air
Inkblot / Every Day For Just a Moment
Ekiti Son / Gemini Disco
Grace Period / Best of Boston
Supersprite / Circular
:dz: / I don't understand. Do I say the right words?
E*rock / Plastic Guitar
F.S. Blumm & Bikini Krakor / Squinting Squirrel
Lineland / Antique Woman
Adlib / Hoffnung
E*vax / Transfer Station
Casiotone For The Painfully Alone / Die Zugfahrt, die unsere Beziehung kaputtgemacht hat
Zammuto / Gallery in Houston
Dim Dim / Spoiled Spotty
Juergen De Blonde / Home is Where The Heart is
Jon Sheffield / Between Lagoons
Ear Weego / Ramlib
You may also like the following titles