Les Georges Leningrad
Sur Les Traces De Black Eskimo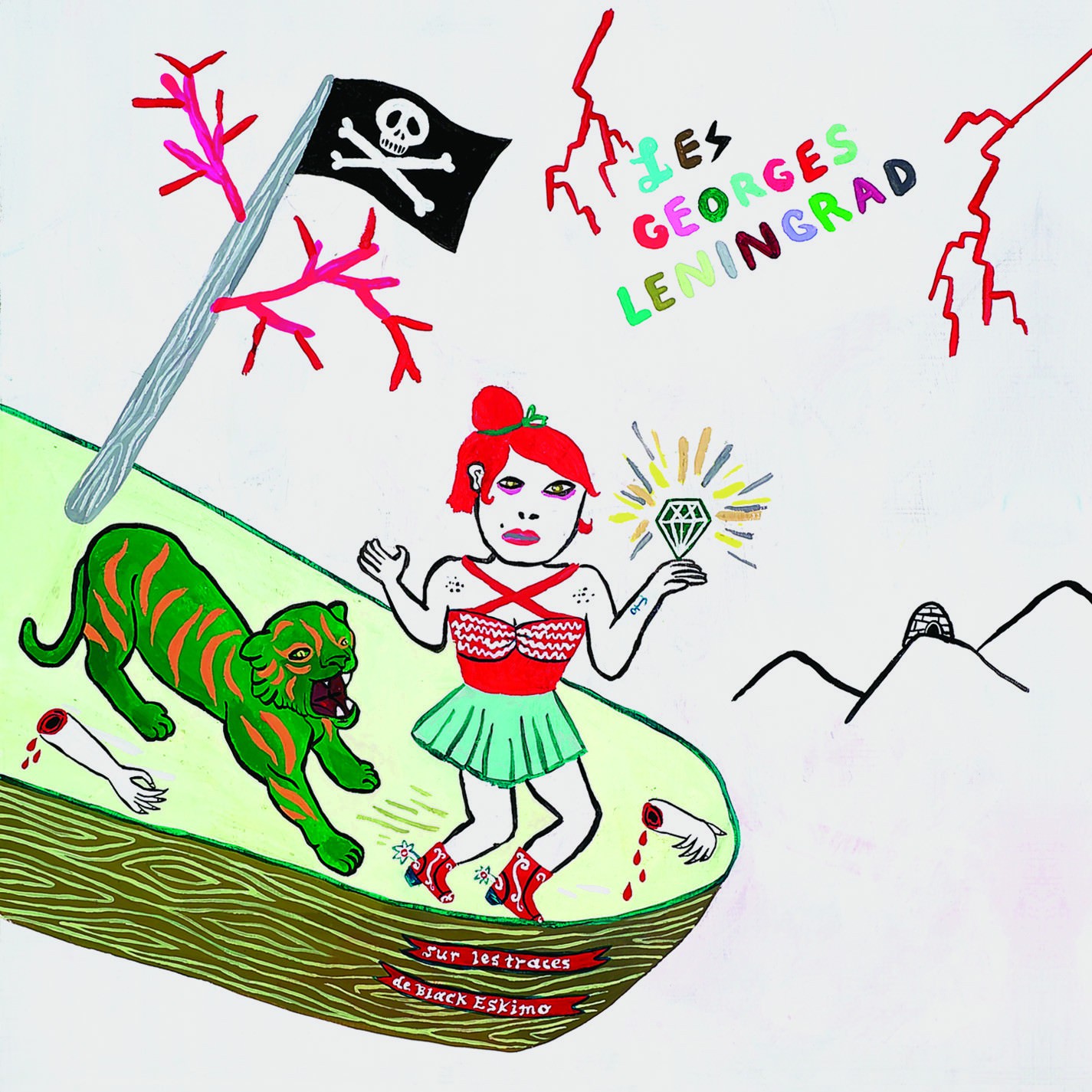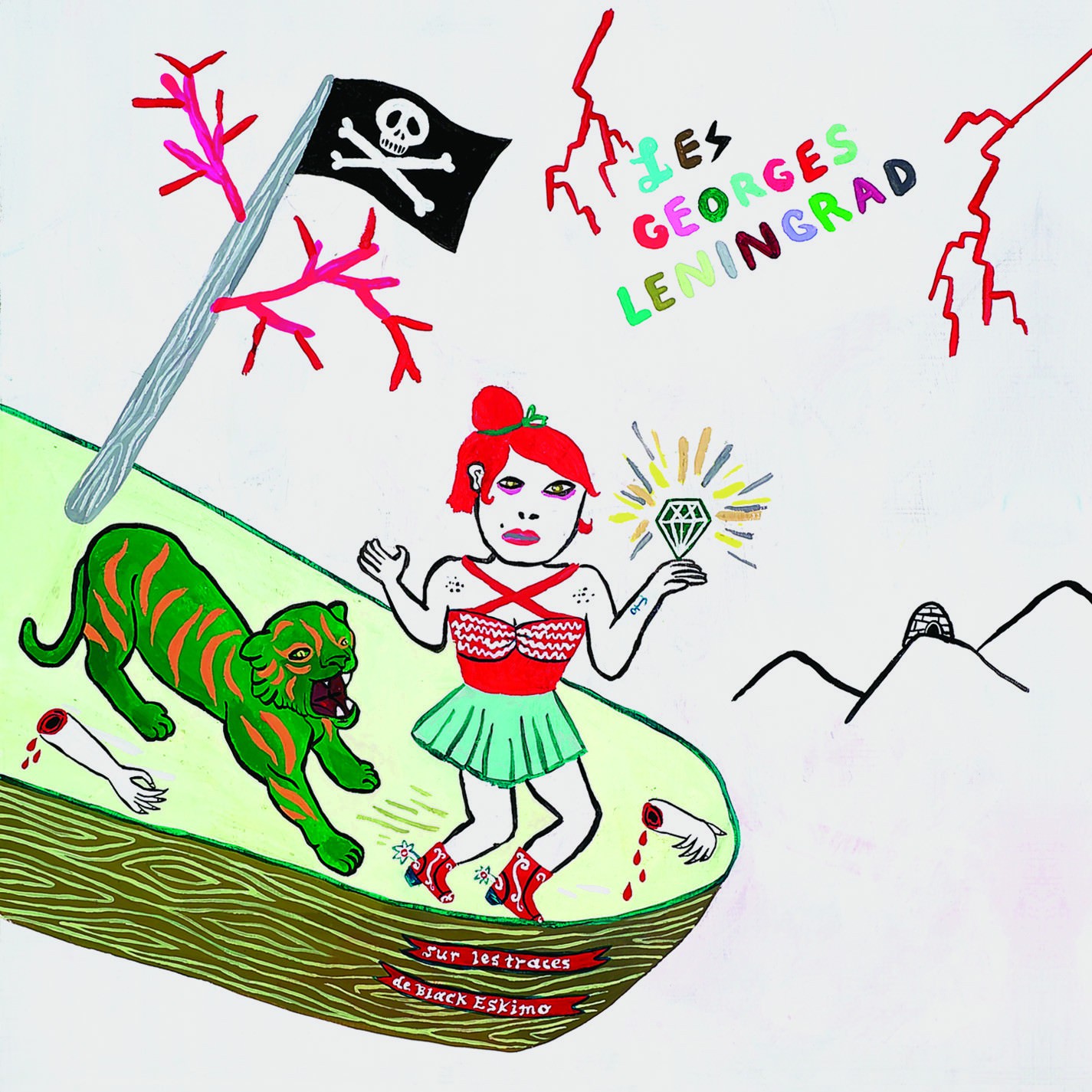 Les Georges Leningrad
Sur Les Traces De Black Eskimo
EU only, released 9/05/2005
CD/LP/Digital
Tom053
"When the qallunaaq Black Eskimo decided to leave the petrochemical ironclad Les Georges Leningrad stuck in the ice, he didn't doubt that he would disappear in a way never before seen on television. On this album, Poney, Bobo and Mingo present him with disconcerting homage of rare and sadistic music resonating from the purebred lineage of petrochemical rock."
Announcing the long awaited sophomore release from Montreal's notorious Les Georges Leningrad. After two years LGL break their silence by delivering their latest recording: Sur Les Traces De Black Eskimo. Now operating as a trio, they are leaner and more dangerous than ever.
Thanks to rigorous touring the band has never sounded so tight and energetic. This latest effort is without a doubt a catchy affair, boasting a number of potential crossover hits. …Black Eskimo mixes elements of post-punk and noisy improv to deliver a completely unique hybrid.
Les Georges Leningrad is made up of front person Poney P. She has a jarring, yet captivating vocal delivery and a magnetic stage presence. Mingo L'Indien is responsible for the bulk of electronics and guitars, backing vocals and strange costumes. Bobo Boutin is the masked mad man who literally destroys his drum kit with his precise and unique playing style and also delivers some amazing backing vocals.
"Super Doopa," already a crowd favorite in the band's live set, is an instant classic that will also see a release as an EP on Troubleman Unlimited featuring remixes by Akufen and Magas. "Gary" is a spastic piece comprised of screaming and skronk, yet it remains oddly accessible. "Fifi F." is another instant post-punk classic that recalls the glory days of hard disco and the likes of Giorgio Moroder .
Les Georges Leningrad have toured and performed with Erase Errata, The Gossip, Le Tigre, The Locust, Magas, Sonic Youth, Trans Am and the Unicorns. They are going to tour Europe extensively this summer in support of Sur Les Traces De Black Eskimo.
"Schizophrenic disco punk trio from Montreal skronk, stomp and scream through this freewheeling second album. One minute they make like NYC punk funk crew !!! had they discovered gabba rather than acid house ("Sponsorships"); the next, like Portishead jamming with the Glitter Band ("Nebraska's Valentine")." TIME OUT

"With their monochromatic attire and drawn-on tattoos, Les Georges Leningrad look as if they've just stepped out of a 1930s comic strip. The three-piece from Montreal - who go by the names Poney P, Bobo Boutin and Mingo l'Indien - also sound as bizarre as they look, taking post-punk and no-wave back to its modern primitive roots." THE DAILY TELEGRAPH

"A stunning 63 seconds of unintelligible madhouse gibbering followed by three minutes of paranoid disco doom. Now that's how you start an album." NME
Missing Gary
Sponsorships
Black Eskimo
Nebraska's Valentine
Umiarjuaq
Wunderkind no2
Supa Doopa
St. Mary's Memorial Hall
Pekin Pekin
Richard
Fifi F.
Comment Te Dire Adieu?
You may also like the following titles